Publicity
MAXIMILIAN AND CARLOTA
EUROPE'S LAST EMPIRE IN MEXICO


PEN International, San Miguel Center, January 14, 2020
Thank you Sandra Cisnros and PEN International for inviting me to San Miguel de Allende to present Maximilian and Carlota.
Vienna, November 26, 2014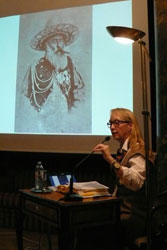 In Vienna, Austria, leaders of a venerated and respected men's club invited McAllen to give a presentation on Maximilian and Carlota. These notable national leaders with a keen interest in history and world affairs enjoy lively discussion and debate on Mexico's Austrian emperor and its current affairs. The subject drew an international audience.
Texas Book Festival, October 25 - 26, 2014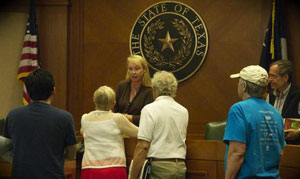 On October 25 & 26 of 2014, an estimated 40,000 people convened on the grounds of the State Capitol in Austin, Texas for the 18th annual Texas Book Festival. Attendees enjoyed author readings, presentations, panel discussions, musical entertainment and more. Featuring more than 80 exhibitor and vendor booths, the festival has quickly evolved into one of the premier literary events in the country.
McAllen's panel discussion depicted below included fellow author C. M. Mayo (Metaphysical Odyssey Into the Mexican Revolution: Francisco I. Madero and His Secret Book, Spiritist Manual) and moderator Steven G. Kellman, expert on Henry Roth.